Windows XP includes a very basic disk defragmenting utility. But it has its limitations and must be run manually when you can remember to do it. Windows Vista and Windows 7 defrag adds a scheduling option but takes a giant step backwards in terms of user interface and options. DiskMagik also includes powerful Command Line scheduling options, but it has several powerful features not included in the Windows utilities including Boot-time defrag, Realtime or Proactive defrag, and Complete Defrag which will rearrange and reprioritize the order of files on the disk, including the Windows Swap file or Pagefile as it is now called on XP/Vista/7, permitting faster file access on demand.



In addition, it includes our exclusive "Proactive Defragmentation" technology. This extraordinary feature gives you the option to run DiskMagik silently in the background at all times. Using minimal system resources, and smart enough to sense periods of low activity to do its job, the proactive techonology will automatically defragment files as they become fragmented keeping your disk in peak operating condition all the time!



Avoid system slowdown, PC crashes, slow startup and shutdown, and potential system failure. DiskMagik is the ideal tool for maintaining your PC in an optimized state for the greatest reliability, and fastest file access and response time. DiskMagik will work on all internal, external and USB harddrives connected to your PC, including RAID. DiskMagik is not intended for network use.

Do not confuse DiskMagik and the performance enhancement it provides with registry optimizers. The Windows registry is an important component of Windows performance, but optimizing your registry does absolutely nothing about optimizing your computer's hard drive. The hard disk drive on a Windows PC is by far the slowest component on your PC. Even high amounts of memory (RAM) and a fast processor cannot overcome the limitations of a slow disk drive... and nothing slows a hard drive down like excessive fragmentation!

Although this is a powerful tool suitable for advanced users, it is also perfect for the novice as well. A very user friendly multi step configuration wizard makes the initial setup a snap.

Use DiskMagik with full confidence. The engine which powers DiskMagik has been in use for several years and is 100% reliable. DiskMagik is fully backed by Rose City Software and the excellent reputation which it has in the software community.


COMMENTS FROM DISKMAGIK USERS

"This is definitely a valuable software tool for me. After all the Microsoft defragger is very old. Thanks!"
Bill Maclaughlin (Betatester) <email_withheld@cox.net>
"I don't know what you folks did, but DiskMagik is QUICK!!!!! No bugs or complaints - let her rip !!!!!!!!!"
Arnon Ives (Betatester) <email_withheld@gmail.com>
"A welcome fast change to the regular Windows XP DeFrag. It also defragged my portable hard drive with ease. I would readily use and recommend this software."
Rev. Charles D. Good (Betatester) <email_withheld@hotmail.com>
"I have tested DiskMagik on 5 computers... performance has improved in all areas... I would recommend the product to my users."
Alex Faure (Betatester) <email_withheld@global.co.za>
see many more comments from satisfied DiskMagik users
WHAT IS FRAGMENTATION?
Each time your computer performs an operation, it is accessing files on the hard drive. File fragmentation occurs naturally on a computer system's hard disk as files are created, deleted, and modified. File bits and pieces get stored by Windows around the hard drive in different places, referred to as 'noncontiguous data clusters'. Windows must seek out each file fragment and assemble them as a whole before they can be used or read, so you can certainly understand why this slows things down dramatically... the disk drive must search through different parts of the disk to assemble the various fragments into a single file to present them to the user. To resolve this problem, defragmenter applications were designed to defragment or 'defrag' the hard disk and reassemble these file fragments into the same and contiguous data clusters.
Defragmenting your hard drives is highly recommended in all Windows Operating Systems, and particularly in systems running and editing large audio and multimedia files. Defragmenting your disks places the data for files next to each other (in contiguous data clusters) rather than fragmented throughout the disk. Simply put, this speeds up reading from and writing to the disk, and increases system stability.
In Windows XP/Vista/7/8 , regular defragging offers even more benefits. XP/Vista/7 monitor the files that are used when the computer starts up, and when your most-used applications start. By monitoring those files the Windows can "prefetch" them; which means data that is expected to be requested is read ahead into the cache. Prefetching is improved if the files are located next to each other on the outer edge of the disk, and XP/Vista/7 work to optimize the location of these boot and application files while the computer is idle. Although this optimization is intended to be done in the background, this activity can cut into system performance, particularly audio performance, if Windows decides the system is "idle" at the wrong time.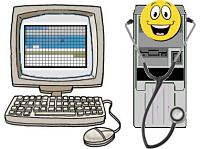 A good defrag utility like DiskMagik will run this location optimization task during disk defragmenting instead, so Windows doesn't decide to do it while you're working. Furthermore, Windows defrag utility doesn't do a true reorder of the swap file the way DiskMagik can do in a Complete Defrag. This should be done regularly and this can be a time consuming activity. However, this is DiskMagik!
Originally you had to close all open files and stop using the computer while the defrag utility performed its operation. Today this is no longer necessary. DiskMagik is further designed to run unobtrusively in the background while you continue using your PC, whether doing a complete defrag or running it in our exclusive proactive background mode. A healthy PC is a fast PC!
DiskMagik is available for a fully functional 14 day evaluation. Try it for yourself now! And see the difference it can make on your computer... even a brand new computer running Windows 7.
Speaking of Windows 7, if you are setting up a new system, or simply interested in optimizing your present system, you should read the special section on the DiskMagik website pertaining to setting up your drives for maximum performance and minimum wear and tear.