Rose City Software was originally founded by Joseph Burke under the name of NetPro NorthWest in 1996. The focus for the company was originally in the area of Computer and Internet Consulting in Oregon's Portland metropolitan area, where Mr. Burke makes his home. As the company's Web site matured into a popular Internet resource center, it co-developed some very popular software titles as shareware.

In 1998, the company incorporated and merged with another large Windows resources site, Windows-Help.NET, which later became HelpWithWindows.com. Arie Slob, of Swatar, B'kara in the island nation of Malta, longtime friend and associate of Mr. Burke, and owner and Webmaster for Windows-Help.NET, joined the company as Vice President of Information Systems. In operation since 1996, Windows-Help.NET was already well established as a resource for almost infinite Windows 95/98 tips, tricks and troubleshooting. The aggregate websites now include HelpWithWindows.com (now expanded to include Windows XP, Vista and Windows 7), and the WindowsBBS.com help forums. The vast site includes more than 1500 Web pages with a vast array of free information and resources for the Internet community.

In August 1999, the company spun off its growing software division to a new domain, RoseCitySoftware.com. The mission of Rose City Software is deliver the finest in PC Productivity Enhancement Software for both the home user and business. In 2012 the company saw how quickly Mac computing was growing and began to add the best of Mac software. By 2014 85% of all households will have three computers and one of them will be a Mac.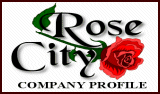 Today Rose City Software continues to actively represent select shareware applications such as TweakMASTER, Registry First Aid, DU Meter, LinkFox, ClipCache, DiskMagik, TradeTrakker, Synchromaster, Magic Notes, and Academic FlashCards. Rose City handles worldwide distribution, marketing and technical support for these fine products. Rose City has added a popular selection of entertaining games and screensavers as well! Rose City Software software serves customers in more than 160 countries worldwide. The company continues to actively develop additional useful applications for the Windows operating system. Rose City Software remains dedicated to the vision of bringing a broader understanding of computers and Internet technology to the world.
---
Management Team

Executive Staff
Joseph Burke
j.burkerosecitysoftware.com
CEO & President

Joseph is the founder and CEO of Rose City Software. With a 20 year background in the advertising industry, primarily in the area of radio and television, Joseph set his sites on the Internet in the mid 1990's. Turning his keen interest in computers into a passion, Joseph created several Web sites before launching the NetPro NorthWest Web site in 1996 which became Rose City Software in 1999.

He serves as Editor-in-Chief of the website and Executive Director of Marketing for all the software at Rose City Software. A man with far-reaching vision, Mr. Burke sees Rose City Software and its related websites as the vehicle to bring a broader understanding of Internet technology to the masses, and to provide a centralized location for a wide array of important resources to help further this understanding.
Arie Slob
a.slobrosecitysoftware.com
Vice President, Information Systems

With a varied background as a certified electrician, photographer, paramilitary policeman and computer specialist in his native country of Holland, Arie emigrated to Malta in the early 1990's and, once the Internet became available in Malta, launched a Web site in early 1996 with Windows Tips & Tricks. This expanded quickly into the Windows-Help.NET Web site in 1998, and has evolved into a decade long association with Rose City Software.
As Vice President of Information Systems for Rose City Software, Arie oversees all web operations including site design and management, advertising, and newsletter operations. Arie works tirelessly to build the combined resources of Rose City Software / HelpWithWindows.com into one of the Internet's most extensive information and resource centers.
Paul Mayer
paulrosecitysoftware.com
Vice President, Software Development

Paul came to this position direct from the Microsoft Network Online Shareware Forum where he served as Forum Manager since the early beta days of MSN in 1993. He's been a Shareware author himself since 1981 and is a Past President of the Association of Shareware Professionals.

Paul was inducted into the ASP Shareware Hall of Fame in June of 2000 and was awarded the Shareware Industry Award for Lifetime Achievement in 2002.
Paul brings his extensive experience and expertise in the field to his position as Vice President of Software Development and directly oversees the development of new applications to broaden the menu of shareware offerings at Rose City Software.
Paul built his first personal computer during the bicentennial year, 1976. He created and ran the first HBBS Bulletin Board System with freeware downloads and messaging on an H-8 Heathkit computer in the 1970's under the CP/M operating system. Some of Paul's shareware programs include, ZPAY 3 Payroll, PayWindow Payroll, Cache Banish Pro, The Virus Checking Assistant, and more. He also wrote the world's first memory resident envelope addresser GRAB many years ago. Paul was also inducted into the SIC Shareware Hall of Fame back in June of 1997. He develops database driven web sites in his spare time.
Alex Melkomukov
alexrosecitysoftware.com
Administrative and Technical Services

Alex graduated form Portland State University in 1992 with a Bachelor's of Science degree in Computer Science. He has worked as a network administrator for a local electrical contractor for 5 and a half years before moving on to work at a local Internet/Wholesale Dial-Up Access Service Provider.

Alex has a diverse background in Programming/Computing/Internet Technology which will be helpful in providing new viewpoints regarding current operating procedures and will hopefully result in improved methods and procedure for handling some of the administrative workflow, and will also be able to help out with some of the technical issues that may arise. He currently lives in Portland, Oregon and enjoys music, reading (both technical and non-technical), and movies.
Elizabeth Mahedy
elizabethrosecitysoftware.com
Chief Financial Officer

As Rose City Software's Chief Financial Officer, Elizabeth advises the corporate officers on all business matters as well as managing all corporate financial assets and records. She oversees all purchasing, revenue allocations and contract monitoring, and is responsible for implementing the financial planning and control infrastructure that will accommodate the company's continued rapid growth.

Ms. Mahedy previously held various finance and operational management positions for such companies as Goodwill Industries of the Columbia Willamette (Portland, Oregon), The Glendale Association for the Retarded (Glendale, California), and The Good Samaritan Medical Group (Los Angeles, California). Elizabeth and her three children reside in the Portland, Oregon metropolitan area with Joseph Burke, CEO/President.
Young-Han Kim
vp_asiarosecitysoftware.com
Vice President of Marketing, Asia

Young-Han (YH) Kim heads up software marketing and development in Asia for Rose City Software. YH is also president of his own company, Mentornics, Inc., which specializes in Design Consulting and Technical Marketing for Telecomm and Multimedia. His expertise includes the registration of more than 50 patents in the field of communications.

Mr. Kim's patents include designs for DeskTop PC, Notebook PC, Palmtop, PDA, Electronic Organizer, Multimedia peripherals, Telecommunication System, and Network. With a strong background in technical marketing for many major companies including Mirae Communication, Cardinal Engineering, and Liberty Systems Ltd. Mr. Kim's special knowledge of the Asian marketplace is a strong asset to Rose City Software. Mr.Kim is a member of IEEE and ACM. With his strength in English to Korean translation for technical materials, YH will head up the expansion of Rose City Software into Korea, Japan, Singapore, China and Australia. YH is married with two sons and lives in Seoul, Korea.
Alice Allen
alicerosecitysoftware.com
Support Technician

Alice brings to the Rose City Software tech support staff a strong background in customer service. She was previously a Reservations Agent for a major airline; and is currently Library Accessions director for the Clark Co. (WA) Genealogical Society. Her "Internet life" also includes being a County Coordinator for the USGenWeb Project, an Internet site developed in 1996 to put genealogical records online--for free.

Trained under the watchful eye of her brother, a senior Tech Support technician, Marvin Aultman, Alice is a huge help Rose City Software customers with their program questions. Alice lives in Vancouver, Washington with her husband and the last two kids (out of 6).