CLIPBOARD ENHANCEMENT
INSTANT TEXT CLEANUP
& QUICK-PASTE UTILITY

Never lose another address, phone number or other important bit of data again! This powerful, easy-to-use clipboard enhancement tool sits quietly in the system tray monitoring all clipboard activity. Text can be instantly edited on the spot using any of the many handy cleanup functions available, such as removal of the annoying ">>>>>" from emails which have been forwarded too many times, removal of large gaps and white space from emails or web table pasteups, removal of linebreaks and dozens of other marvelous features.
And best of all ClipCache Pro is much faster than competing utilities of this type yet has many features not found elsewhere. We've been around since the 90's and with the new release of ClipCache Pro 3.0 we are back at the top of the field!


ClipCache Pro is fully compatible with Windows 10/8/7/Vista/XP and is available for free 30 day trial download with no limitations. You can choose between the standard Windows installation, both 32 and 64 bit Windows compatible, and the portable version for use on a thumb drive or other portable media (just run the exe and extract the contents to your thumb drive or other removeable media).

Look at all the Internet awards this must-have productivity enhancement utility has won: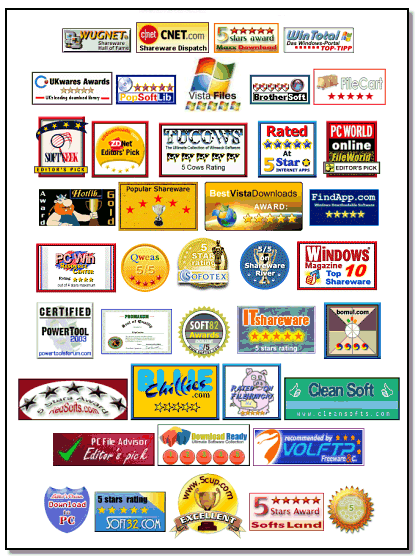 Praised by both individual users and large companies alike for its extraordinary productivity enhancement capability, ClipCache Pro is the best utility of its type available, and has site licenses in place with IBM, AT&T, Bosch, Cuna Mutual, BankFirst Corp, Pioneer Hi-Bred Int'l, The Oregonian, The New Haven Register, Basler Electric, Short Line School as well as many other major corporations.
This is an indispensable tool for Windows 10/8/7/Vista/XP.
as featured in


"ClipCache is one of my all-time favorite programs.
I use it religiously every day." - John Mello

"I make my living as a writer... Instead of the Clipboard,
I use ClipCache... far more useful than the Office clipboard"
- Preston Gralla

as featured on 3/30/2000

at ZDNET 4/11/2002
If you do any word processing, email or web surfing, you can't afford to be without this tool! No other utility in its class has won such an impressive array of awards including the prestigious 5 Cows rating at TUCOWS, and Microsoft Windows Users Group Shareware Hall of Fame (WUGNET). And no other clipboard utility offers the extraordinary range of features offered by ClipCache Pro.
With the standard windows clipboard, anything you cut-and-paste is lost from the clipboard as soon as you copy something else. Microsoft Office is widely publicizing it's "improved clipboard" which now allow the clipboard to store a paltry 12 clips and offers very little additional functionality.
With ClipCache Pro installed on your system and sitting quietly in your system tray, all copied information is saved in a folder or "group", whether it's a number, URL, email address, or a sentence, paragraph, or entire document. Even images can be stored in the folder of your choice. It's then as simple as pulling up the window from the system tray on your taskbar and double clicking on the item you wish to paste up anywhere you need it.
At The Oregonian, the largest newspaper in the Pacific Northwest, we have found ClipCache to be an invaluable aid in manipulating text and images. It offers us the capability to efficiently store, manage and retrieve bits of data for insertion in news and feature stories. It makes compiling wire news roundups a snap. XRayz Software and Rose City Software, who offered The Oregonian a site license at a reasonable cost, have a great product here - an immense improvement over Microsoft's Windows Clipboard and Clipboard Viewer, which limit you to one clip at a time.

John Hamlin
News Systems Director, The Oregonian
Portland, Oregon/span>
ClipCache has registered users in more than 50 countries worldwide!
You can organize your material into various folders and subfolders for instant access to all your regularly used subject matter... replies, responses, logo, humor, addresses, phone numbers, inquiries or other data. This is one tool you will use every day you are on the computer, over and over again for word processing, email, or just surfing the web. Try it and you will never be able to return to Windows single item clipboard again.
ClipCache Pro' text cleanup features are nothing short of amazing. How many times have you received an email which looked like this:
> > > > MARYLOU
> > > >
> > > > > > A woman came up behind her husband while he was
> enjoying
> > > his
> > > > > morning
> > > > > > coffee and slapped him on the back of the head.
> > > > >
> > > > > > "I found a piece of paper in your pants pocket with
> the
> > > name
> > > > > Marylou
> > > > > > written on it," she said furiously. "You had better
> have
> > an
> > > > > > explanation."
> > > > >
> > > > > > "Calm down, honey," the man replied. "Remember last
> week
> > > > when
> > > > > I was at
> > > > > > the races?
> > > > > > That was the name of the horse I bet on."
> > > > >
> > > > > > The next morning his wife sneaked up and again whacked
> > him.
> > > > >
> > > > > > "What was that for?" he complained.
> > > > >
> > > > > > "Your horse called last night."
> >
>

Text clips may be reformatted in many ways:
Trim '>' indentation (ideal for heavily quoted email/newsgroup text)
Trim '|' indentation.
Trim ':' indentation.
Trim space indentation.
Trim tab indentation.
Trim custom character indentation.
Make upper or lower case.
Transpose case.
Apply sentence case structure.
Remove empty lines.
Remove linebreaks.
Remove CR/LFs.
Strip < > from email addresses.
Strip HTML tags.
Trim Left.
Trim Right.

A Cleanup Text dialog box allows all formatting operations to be simultaneously processed. Your most often used settings can be saved as pre-sets for later use.
Below are just a few of the many handy features ClipCache Pro offers:
Store text clips for reading later or pasting into other applications.
Copying text and making changes to it prior to pasting.
Instant retrieval and pasting of frequently used text clips.
Long list of highly useful text editing functions as listed above
Assign hotkeys to your favorite functions and/or often-used text clips.
Word Count - counts the number of words, characters and paragraphs in the clip
Main Window's 3 pane view (Group, Item and Preview) allows easy management of clips.
Easy to use explorer style interface with folders and subfolders
Displays clip attributes: Name (supports renaming), Size, Format or Date
Sort clips based on any clip attribute on a per-folder basis
Edit and create text clips giving post-it note functionality.
Edit clips by typing directly in the preview pane.
Change formatted text to straight text (ascii)
Merge selected clips to a list or with any separators you wish such as commas, semicolons, hyphens, etc.
Append text to the clipboard, rather than replacing the clipboard.
Save captured clips to individual files.
Manage folder/group size using the 'purge' feature or set size limits for each folder.
Trashcan group avoids accidental deletion of clips.
No restriction imposed by ClipCache Pro on number of clips.
Expanded Search/Find facility with highly effective 'Search and Replace'.
FormPaste facility pastes selected clip into the most recently used app, and then automatically TABs to the next field
QuickSelect hotkey shows a tooltip of the currently selected clip below mouse pointer.
Many custom configurations possible.
Drag and Drop clips to applications.
Useful "Keep Window Open" toolbar button to override any auto-minimization options
Improved one-click access to text cleanup functions from the toolbar
Shift+Ctrl when double-clicking a clip will FormPaste the clip to the last used program.
ClipCache options are saved out on a per user basis
New Features in v3.0/3.1
See the great review this new version has gotten at TechNewsWorld.com
"It may have been a long time coming, but it was worth the wait."



Great review here as well! Jobseekers, you cannot afford to be applying
for a job today without a top clipboard enhancement tool to boost your productivity.

Fully compliaint with Windows 10/8/7/Vista/XP.
Subfolders (folders within folders) let you organize the clips exactly how you want.
Color Highlights can be assigned to folders and clips.
The toolbar is customizable.
Multi-level Undo and Redo.
Search bar to help you quickly access your clips.
The Search Results folder contains all the search results in one convenient place.
An improved ClipMenu provides immediate access to folders and clips via a hotkey or the system tray.
The ClipCache data file is now a single file driven by a small footprint robust SQL database engine.
A Recent Clip List allows rapid access the last used clips via a hotkey.
Favorite Clips are like hotkey clips with the benefit of only having to remember one hotkey.
Standard Hotkey (keystroke) functionality restored from version 2.9
PowerPaste quickly pastes a consecutive list of clips, ideal for form filling.
Capture more clipboard formats than ever before.
A tabbed Preview Pane lets you see multi-format clips.
View HTML clips as a web page.
The improved Pruneoptions helps maintain the size of folders.
The customizable Capture Options means you can choose to capture only what you need to capture.
Unicode support means international languages are supported.
Text Cleanup has been improved, there are many more cleaners and you can create your own.
Addressed the issue of ClipCache disconnecting from the Windows Clipboard and not capturing.
New and improved HTML help assists you in making the most of ClipCache.
We have deployed ClipCache Pro in our lab and at the workstations located in every classroom. During a faculty training the advantages and strengths of the "clip board on steroids" was discussed and plotted. The time that can be saved and the improvement in quality of work was noted. We look for ways to give an advantage to our school and feel that your product will be a power tool for our students as well as our staff.
Jim Archer
jarcher@access.k12.wv.us
Wetzel County Schools
West Virginia, USA
/span>
---
ScreenShots

ClipCache Pro main window (menus displayed)
(reduced in size)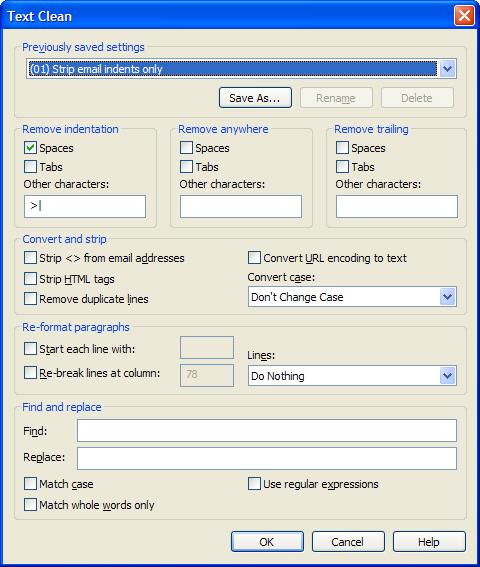 ClipCache Pro CleanUp Text Selections
---
Download from Rose City Software: (32 & 64 bit compatible)

There's a 30 day free trial without limitation. After purchase you will be issued a serial number to register it for unlimited use.

If you've read enough and want to purchase your registered copy of ClipCache Pro right for just $29.95 with a 30 Day money-back guarantee, you can make a secure credit card transaction instantly online from Esellerate.net. Whether you just go ahead and buy it now, or try out the shareware version first, we know you will really enjoy managing your data with ClipCache Pro.
---
ClipCache Pro was developed by XRayz software. For ClipCache Pro Support questions, contact XRayz Technical Support