The Environmentally-Friendly Sticky Note

Tired of losing your notes? Want some help organizing your notes or just want to jot something down quickly and you don't want to load a big word processor or PIM? Need to send a quick note to a colleague, co-worker or friend?
Congratulations, you have just found the most versatile and easy to use note taking utility there is for Windows 8/7/Vista/XP/2000.
No more endless searching in the Start menu or tedious wait for an application to load just for that small note you want to make. Magic Notes solves that problem by always being available and never more than a click away from a note you can enter information into.


Magic Notes is available for 30 day trial download with no limitations.

Magic Notes is also fully network and internet capable so you can right click on a URL and launch your browser or internet mail application right from a note. You can even send a sticky note right to the desktop of any other PC running Magic Notes, over a LAN or even the internet!

Here are just some of the great features of Magic Notes:
Great utility to keep track of notes or ideas with easy access regardless of what application you're in.
Compatible with Windows 8/7/Vista/XP/2000.
Email notes to people using a MAPI compatible mail client like Windows Messaging, Outlook Express or Eudora Pro.
Send notes directly to the desktop of other PCs running Magic Notes, over a LAN or even over the internet!
Alias list and ignore list make sending and receiving notes even easier.
Search feature to find any notes containing a specific word or string of text.
Improved multi-user support.
This is a great tool for instant communication for a small office or even a home LAN.
Easy to configure with easy to use tabbed dialog.
Variable note transparency.
Automatic hassle free saving whenever you change to a different application or exit Windows.
Advanced alarm functionality to help you keep track of appointments or other events. Easily handles reoccurring events using a wide range of options.
"QuickSnooze" feature makes setting an alarm easier than ever!
Print notes to your printer.
Note Organizer window provides easy access to all of your notes.
A Quick Look at Magic Notes:
Magic Notes resides in your system tray where a single click (or if you prefer, a double-click) automatically creates a new sticky note. A right-click on the tray icon opens the magic notes menu.
---

If you prefer, instead of a tray icon Magic Notes can be accessed through a floating toolbar which can be placed anywhere on your Windows desktop.
---

The Magic Notes menu, accessible from either the toolbar or the tray icon, provides access to configuration settings and other options, as well as the Note Organizer window. Set an alarm, Use the handy NetSend feature to send an instant note to another computer.

---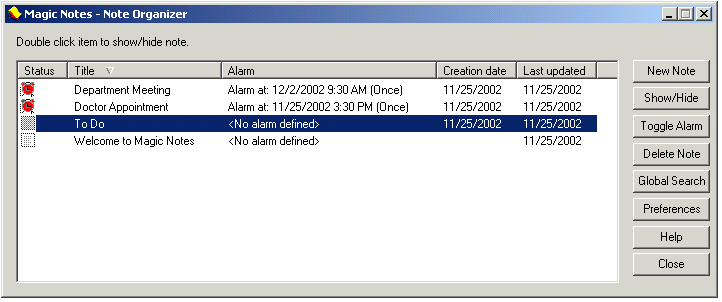 Magic Notes' "Note Organizer" provides centralized access to all of your notes. Alarms can be set or removed, notes deleted, renamed, or opened for editing. Notes can be sorted here by several different criteria.

---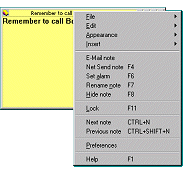 Right-clicking on a note brings up the note menu. From here you can change the display of your notes (for example, change the note color or font). Selecting "Email Note" will insert the note text into a new email message in your MAPI compatible default email program. With "Net Send" you can send a note directly to the desktop of any other PC running Magic Notes via a LAN or the internet - a great tool for instant communication! The Alarm and Preferences windows can also be accessed from this menu.

---
Download:
Magic Notes is available for free evaluation from our server:

Magic Notes Downloads
[1.63 mB]
v 4.1 - 01/18/13
---
Purchase Magic Notes:
You can buy Magic Notes right now for only $19.95 through our secure online vendor, esellerate.net, with a full money-back guarantee.

Magic Notes for only $19.95

Magic Notes 5 User "Small Office Pack" for only $60.00